I am...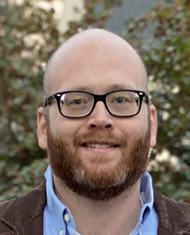 A photographer, developer, husband, and father.
I have lived in or around Raleigh, North Carolina most of my life.
I love music, and I enjoy writing and programming.
I am a maker.

As a kid I was always making something out of cereal boxes and scotch tape or Legos. As I've gotten older I've discovered other things to make, including music, electronics, and photography. Most of my current creative energy goes into progrhoamming, but I still play with Legos sometimes.

Since 2014 I've been a developer at Factor500. Thankfully I also get to do a bit on the sys admin side, which I really enjoy as a occasional change of pace. These days I mostly work with Python and Linux. I'm still partial to software that is built in C.

I've been really interested in open source for years. I remember being excited that Tivo became popular because it ran Linux, and now Linux is everywhere. Some of my personal projects have included a web based twitter client with PHP and jquery, a note taking application (inspired by Notational Velocity) in C#, and lots of HTML/CSS/JavaScript.

Last updated: 2020-06-08
Email
jwh at laydros dot org
Skills
Python, C(++, #), HTML + CSS, AJAX, shell scripting
Linux-BSD/MacOS/Windows

Work
Factor500 - March 2014 - Current
Software engineer building back-end software and migrating to ERPNext system. Also sysadmin duties for internal IT architecture.
Bandwidth - June 2012 - March 2014
Primarily automated software testing for telecom systems. Established CI and automated testing with Jenkins in AWS.
Fidelity Investments - July 2009 - June 2012
Calculation developer. Writing and maintaining engines used in pension benefit calculation. Using Java based FICO Blaze and C based BDC.
IBM - October 2007 - July 2009
Worked as a co-op at IBM with the WebSphere DataPower team. System administrator, along with development and testing tasks.
FedExKinkos - May 2004 - October 2007
Project coordinator and production operator
Tipmonkies.com 2005
A founding writer at Tipmonkies. Wrote articles and participated in podcasts.
Intrex.net 2003 - 2005
ISP tech support and some junior sys admin/web design work.
OfficeMax 2000 - 2004
Technology Department Supervisor and CopyMax associate.

Education
North Carolina State University - May 2009
Major: Agricultural Business Management
Minor: Computer Science


This Site
This site was hand coded with (mostly) care in emacs/mg(1). The theme/styling is sakura.css
Currently hosted with vultr running httpd(8) on OpenBSD. Previously iterations have happily lived at linode on debian and at sdf